1ST ASSISTANT GENERAL OVERSEER
2ND ASSISTANT GENERAL OVERSEER
3RD ASSISTANT GENERAL OVERSEER
COUNCIL OF EIGHTEEN / INTERNATIONAL EXECUTIVE COUNCIL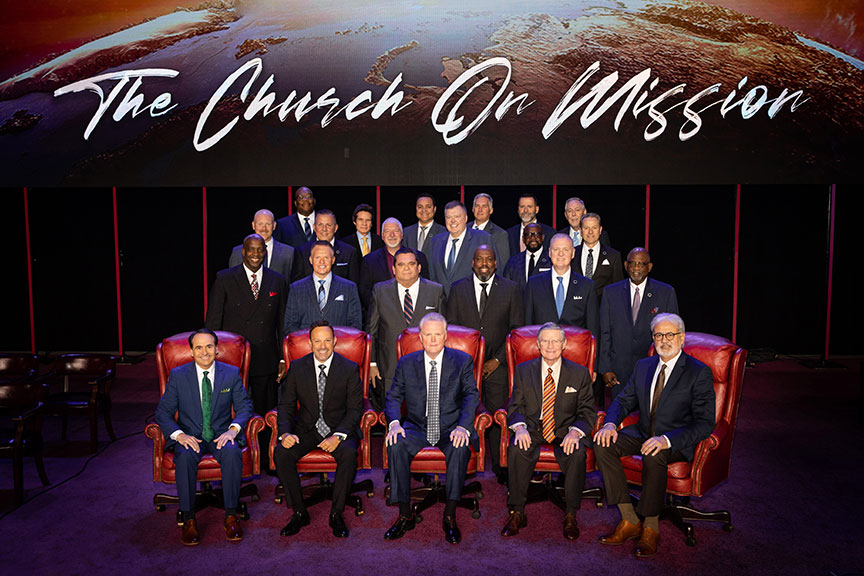 Seated, L-R: Gary Lewis, Tony Stewart, Tim Hill, Raymond Culpepper, David Ramirez. First Row, l-r: William Lee, Scott Sheppard, Angel Marcial E., Anthony Pelt, Kip Box, Ken Hill. Middle Row, l-r: Joe Dobbins, David Smith, Nick Park, Kelvin Page, Lennox Walker, Rick Whitter. Back Row, l-r: R.C. Hugh Nelson, David Cooper, Julio C. Melendez Olgvin, Kenneth Anderson, Mark Leonhardt, Timothy Brown.
The Church of God Council of Eighteen is a body of 18 ministers elected from within the ranks of Ordained Bishops of the Church of God during the biennial General Assembly. The Council of Eighteen serves with the International Executive Committee to form the International Executive Council, a body which establishes polity and directs the ministries of the Church. The Executive Council also includes a representative from the Full Gospel Church of God in South Africa and the national overseer of Indonesia. Members of the Council of Eighteen are elected for two-year terms and may be elected to two consecutive terms.
Members of the International Executive Committee include Timothy M. Hill, general overseer; Raymond F. Culpepper, first assistant general overseer; Tony Stewart, second assistant; David E. Ramirez S., third assistant; and Gary J. Lewis, secretary general.
The 2022-2024 International Council of Eighteen consists of the following men, listed in order of their election and where they presently serve in ministry:
 William Lee – Pastor, Victorious Life Church, Conyers, Ga
Scott Sheppard – Pastor, Cornerstone Church, Athens, Ga.
Angel Marcial Estades – Latin American field representative, Church of God World Missions
Anthony Pelt – Administrative Bishop, Florida-Cocoa region; pastor, Radiant Living Worship Center
Kip Box – Administrative Bishop, Western North Carolina
Kenneth Hill – Administrative Bishop, Southern New England
Joe Dobbins – Pastor, Twin Rivers Worship Center, St. Louis, Missouri
David Smith – Pastor, Oak Park Church of God, Mobile, Alabama
Nick Park – Overseer, Ireland
Kelvin Page – Pastor, Westmore Church of God, Cleveland, Tennessee
Lennox Walker – Pastor, Praise Cathedral Worship Centre, Ontario, Canada
Rick Whitter – Administrative Bishop, Pennsylvania
R.C. Hugh Nelson – Pastor, Church of God of East Flatbush, Brooklyn, New York
David Cooper – Pastor, Mount Paran Church of God, Atlanta, Georgia
Julio C. Melendez Olgvin – Pastor, Iglesia De Dios Central, Hermosillo, Sonora, Mexico
Ken Anderson – Pastor, Minnesota, Regional Superintendent of South Asia, Church of God World Missions
Mark Leonhardt – Administrative Bishop, Indiana
Timothy Brown – Administrative Bishop, Florida-Tampa.
1ST ASSISTANT GENERAL OVERSEER
2ND ASSISTANT GENERAL OVERSEER
3RD ASSISTANT GENERAL OVERSEER
COUNCIL OF EIGHTEEN / INTERNATIONAL EXECUTIVE COUNCIL